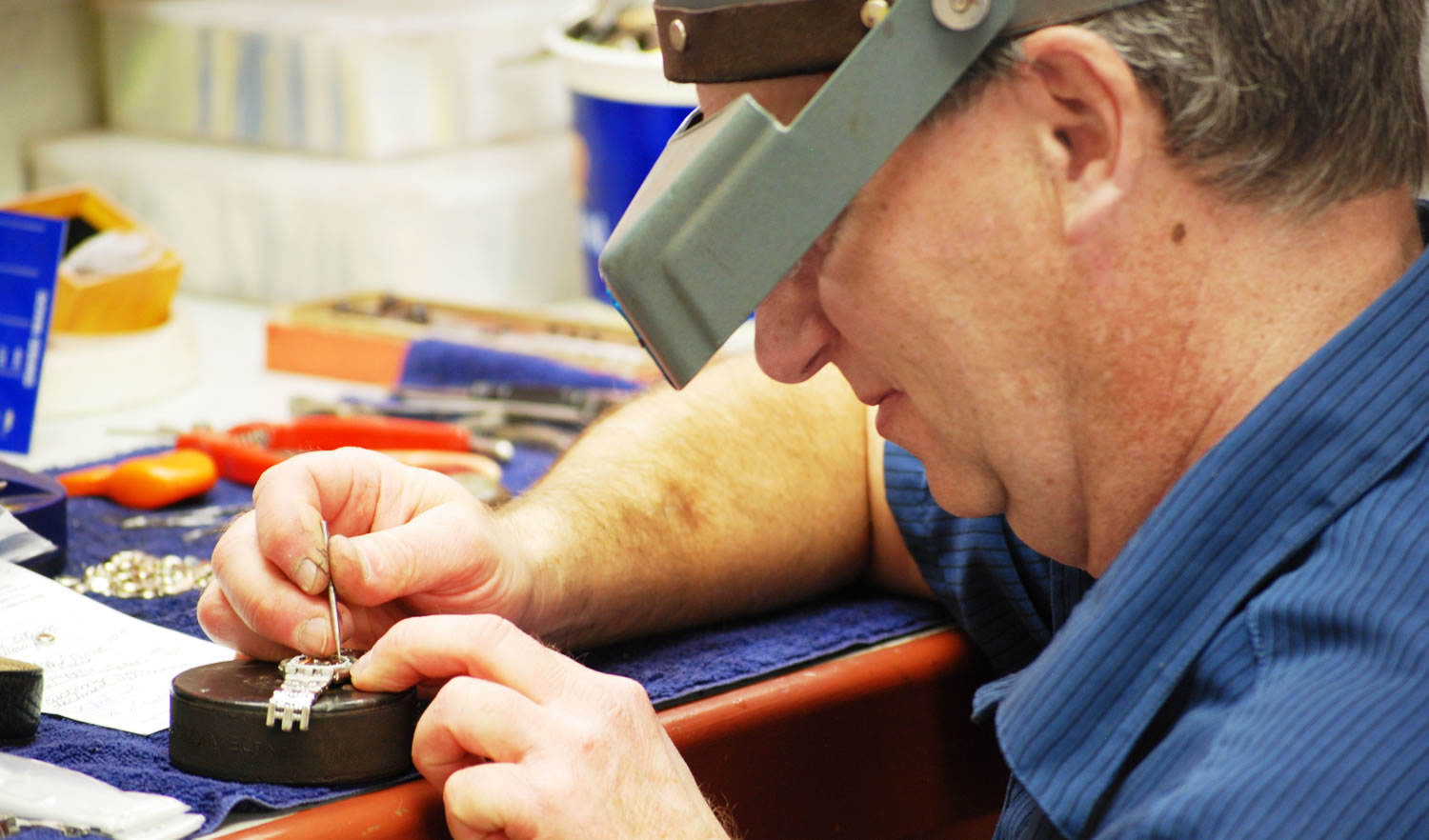 Watch Repair
Whether you're looking for a simple repair such as a battery replacement or need a complete watch cleaning, overhaul and refurbishment, Jewels on Ninth has the expertise to breathe new life into your favourite timepiece
Did you know? Jewels on Ninth offers quick and reliable watch repair and battery replacement in Cranbrook BC
Jewels on Ninth loves watches—in fact, you might even say we are a little obsessed with timepieces of all shapes, sizes, colours and brands. One thing that we know about watches in more than 20 years of selling, servicing and of course wearing watches is that they need to be maintained. Every watch whether it be vintage or modern requires maintenance and general servicing from time to time.
Whether you're looking for a simple repair such as a battery replacement or need a complete watch cleaning, overhaul and refurbishment, we can breathe new life into your favourite timepiece. Jewels on Ninth has two watch experts that have a combined 40 years of experience of breathing new life into timepieces of all kinds.
Here's what one happy customer said about our work:
"We have shopped here since Jewels on Ninth opened. The owners and staff have always provided us with friendly, on time and fair service. Jewels on Ninth are a top notch, professional and community minded Family business. A true asset to the city and an easy choice for your needs."—Juan Carlos Bruno Facebook 5 Star Review
Jewels on Ninth offers the following watch repair and battery replacement services in Cranbrook BC
Battery replacement: Battery replacements can often be done while you wait, or on the same day. We stock close to 40 different watch batteries and are still waiting for someone to bring a watch that we don't have the correct battery in stock.
Bracelet sizing and repairs: If your watch doesn't fit properly Jewels on Ninth can help. This is one of our most common repairs and we can almost always take care of you while you wait.
Watch glass repairs: Is your watch face (or crystal) cracked, scratched or fogged? We can repair or replace it and have your watch looking as good as new.
New Strap Replacement: It's like getting a whole new watch! We have a variety of genuine leather straps and metal straps for you to choose from.
Mechanical watch repairs: Do you have a classic timepiece that needs a cleaning or has stopped running? We love being able to bring heirlooms and older watches back to life. Jewels on Ninth has the tools and expertise to look after just about any older watch you may have. We have worked on common brands like Omega, Rolex, Seiko, Bulova, Wittnauer, Citizen, Fossil, Swiss Military, Longines, Pulsar, and more.
Free estimates—always: At Jewels on Ninth, we don't believe in surprises. Don't worry, we'll provide an honest appraisal of your watch and the repair process will be explained before we begin any repairs.
Two decades of watch repair experience: Jewels on Ninth service work is done either by the owner, Brian Masich, or our long-time service technician, David Corfield. Both have over 20 years of experience working on just about every timepiece imaginable.
How long will the watch repairs take?
For basic repairs like replacing a battery and repairing a bracelet we can almost always have your watch back to you in 30 minutes or later the same day. For all other repairs we can let you know how long it will take—usually less than a week.
How can I contact Jewel on Ninth to get my watch repaired?
We would love to see your timepiece in person at our store on (you guessed it) 9th Avenue in Cranbrook BC. (For a map click to our contact us page) If you are out of town and want to phone ahead and schedule an appointment you can call us at 250-489-5773, or emailing your questions to hello [at] jewelsonninth.com
Jewels on Ninth carries a variety of leading watch brands in our Cranbrook store
We have a wide selection of quality timepieces that fit every budget. Jewels on Ninth sells and services top watch brands like Bulova, Wittnauer, Victorinox Swiss Army, Citizen, Fossil and Swiss Military. We would be happy to show you our watch collections for men, women and children.